Strongroom Doors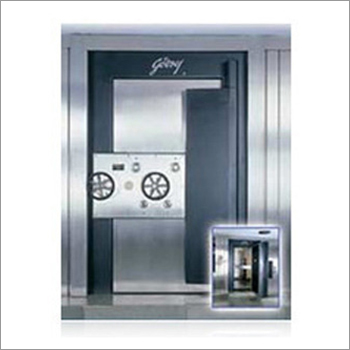 Strongroom Doors
Security has becoming one of the thought provoking issues for financiers and businessmen nowadays. This specific problem is efficiently handled by Godrej with over their more than 107 years of domain knowledge in the security arena.

Godrej's thorough understanding to tackle such criminal offense has enabled it to develop impenetrable barriers for additional security. As a part of our customer oriented working strategy to offer them the best grade products with state of the art technological features, we are now providing you another item necessary for maintaining safety of stored valuables at bank – A Torch and Drill Resistant (TDR) Matrix High Security Door.

The manufacturing technique of our Strong Room Doors is in sync with IS 11188. These have been fabricated by using premium grade steel that has been directly obtained from steel developers.

All our ferrous made parts go through pre-treatment methods that involve seven steps. This entire procedure is executed in our Computerized Surface Treatment Plant which is completely equipped with cutting edge technology. This pre-treatment work is completed after applying the layers of Nitro­ Cellulose paint that aims to provide these components glossy and durable surface finishing. Our advanced pre-treatment procedure confirms corrosion proof long functional life of all the Godrej items.

Features
Door Frame : The door frame has been fabricated by single piece metal. Free from bolt or pin, its entire structure is completely welded to improve its durability and sturdiness.
Rebate : The 65 mm deep box doorpost rebate is instrumental in safeguarding shooting bolts against all sorts of theft.
Height Adjustment Mechanism : The door and pivots are equipped with height adjustment system which is advantageous for proper alignment of door. This facility enables trouble free movement of door on pivots.
Door Slab : It is made of HSD 65 grade material as per class 1 of UL Standards.
TDR Matrix : The innovative Torch & Drill Resistant layer which is accessible only with Godrej items, is truly useful for preventing burglary.
Limit Switch : The limit switch which is driven by pivot comes in handy for illuminating inside room. It indicates activation of ventilating system and lights when the main door is open. The electric supply is terminated after closing of the main door.
Locking Mechanism : The locking system consists of precisely designed two dual controlled 8-lever locks. The entire body of lock and levers is made of good quality brass and is treated with phosphor bronze.
The quick responding function of its re-locking system is useful for detecting as well as preventing theft by immediately ceasing the door by mechanically or by utilizing liquid explosives.

We provide one UL listed 4 wheel mechanical combination lock with this door. This combination lock offers around ten million combinations for setting as well as for resetting purpose.

The Drill Defeat Shield is useful for shielding locks and re-lockers against power drills.
The other types of lock options available under 4 - Wheel UL / VdS list are Electronic Combination Lock, Mechanical Combination Lock and Biometric Lock.

Shooting Bolt : The 4-way mechanism [each of 50 mm (2") dia.] of its shooting bolt is driven by total 16 bolts of which 6 are located on the left and right parts, 2 bolt are on the top and bottom.
Balanced Pressure Bolt Work : The balanced pressure bolt work of its locking system is instrumental in maintaining equilibrium of handle operating force by transforming it into an equal force on its lock bolt.
Automatic Deadlocking Device : The separate and delicate deadlocking systems are useful for safeguarding each of the locks against volatile, acid and other external damages attempted through the keyhole.

Grill Gate : The grill gate is attached to a precisely designed 8-lever dual controlled brass made lock that can be controlled from both sides.
Anti-corrosion Treatment : All the steel parts are featured with twelve-stage rust proof surface treatment and rust protected paint.
The entire slab thickness of Godrej High Security Doors ranges between117mm(4 5/8') to 202mm (8"). We also offer doors with customized thickness level.

Overall size of HSD – The size of main door ranges between 2350mm (92 1/2") x 1400mm (55 3/32") to 2400mm (95") x 1515 mm (60")