Safe Deposit Locker Cabinet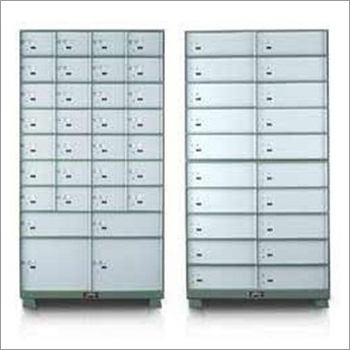 Safe Deposit Locker Cabinet
Safe Deposit Locker Cabinet is specially designed to ensure safety of precious items stored in deposit vaults against robbery.

Features

Developed from standard grade steel plates.
Brass levers of this cabinet are equipped with phosphor bronze springs.
Locks are safeguarded by a well built steel door which is devoid of any projecting part.
All the steel parts are featured with advanced twelve-tank anti-corrosion treatment.
The standard grade enamel paint coating is oven dried under controlled temperature to avert damaging effects of scratch.
It is accessible with 10 types of separate lockers with more than 1600 combinations
This cabinet can be obtained with optional accessories like Renters Personal Lock and Jewel Boxes.
Related Information
Usage:- Banks Vaults, Clubs, Hospitals, Hotels, Post offices, Private Vaults

Locking system


The safety locker opening system is jointly managed both by the renter and its custodian with separate key
The interchangeable locks are useful for trouble free replacement of empty lockers.
To ensure extra security, a specially designed personal lock for renters with single unique key is provided in order to check unidentified access.
As optional accessories, padlocking hasps are installed on all locker doors so that renters can utilize their padlocks.

Accessories

We also offer accessories like key cabinets, low settees, movable inspection tables, steel sleepers ( to maintain specific distance between lockers and floor) and step ladders.
Conforms to IS 5442:1991
Certified and enlisted by the Bureau of Indian Standards (BIS)
Technical Details:
Locker Type
Height
Width
Depth
A
A
mm
125
175
492
inches
5
6 4/5
19 1/3
B
B
mm
159
210
492
inches
6 1/5
8 1/5
19 1/3
2A
C
mm
125
352
492
inches
5
13 4/5
19 1/3
D
D
mm
189
263
492
inches
7 2/5
10 1/3
19 1/3
2B
E
mm
159
424
492
inches
6 1/5
16 3/5
19 1/3
4A
F
mm
278
352
492
inches
11
13 4/5
19 1/3
2D
G
mm
189
530
492
inches
7 2/5
20 4/5
19 1/3
4B
H
mm
321
424
492
inches
12 3/5
16 3/5
19 1/3
2B1
H1
mm
321
210
492
inches
12 3/5
8 1/5
19 1/3
4D
L
mm
404
530
492
inches
16
20 4/5
19 1/3
4D1
L2
mm
385
529
492
inches
15
20 4/5
19 1/3