Record Room Doors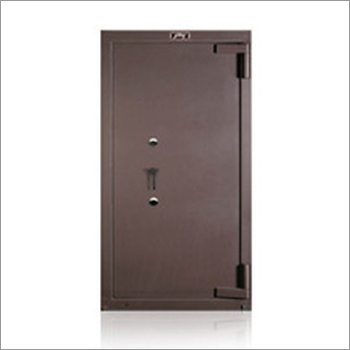 Record Room Doors
Fire and Burglary Resistant Record Room Doors are specially designed to ensure safety of important and priceless records of record rooms.
Features
Standard grade high strength steel is used to develop the multibend door frame.
The frame is equipped with eight holdfaststo integrate with the record room wall.
The door slab and necessary door elements of strong room door are shielded by specially designed hammer-and-drill-resisting plates.
The 4 shooting bolts located at the front part and extra 4 welded bolts to the lock case on the hinged part are instrumental in contributing to bolting effect.
Non-conductive fire proof compound of Godrej is used to ensure protection against extreme heat.
We also provide precisely designed grill gate which is equipped with Godrej 8 lever dual control locking arrangement that can be managed from both sides.
Standard grade corrosion proof pre-treatment for ensuring its long lasting nature
As optional accessory, a record room door with left hand opening facility is offered. The grill gate is also available with an alternative opening facility.
Related Information
Usage:- Its utilization can be noticed in Allied Industries, Banks, Broker, Factories and Warehouses, Financial Institutions, Jewelery shops, Offices, Post Offices, Private Safe Deposit Vaults and Refineries.
Locking system
Two precisely designed dual control Godrej locks are instrumental in securing bolt work.
As optional accessory, a Godrej 3-wheel or 4-wheel combination lock is provided
Self regulated dead-locking system is useful for checking forced dislodging of the lock by using instruments like sledge hammer, crow-bar etc.
We also offer a time lock system as optional accessory.