Matrix Depository Safe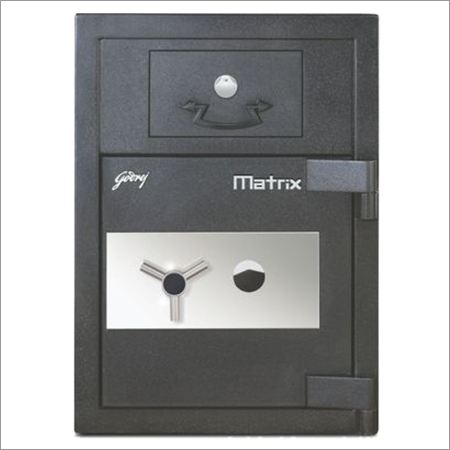 Matrix Depository Safe
Matrix Depository Safes are made of superior grade raw materials; they feature innovative designs and demonstrate use of advanced technologies to endure durable performance at client's end. To give a glossy look, we coat the Matrix Depository Safes with epoxy powder. Our depository safe is an important tool in safe guarding cash from thieves and/or employees. This safe is ideal for Retail Chain Stores & Retail Shops, Education institutes, Petrol Pumps, Hospitals/Clinics & Hospital suppliers, Clubs, Currency exchange, corporates etc.

Features:

Burglary resistant
Armoured plate & steel bar - Door & body
58 mm (body) & 50 mm (door) Barrier thickness
Model no. 1212 - 1 key lock for safe ; Model no. 1616 onwards - 2 key locks for safe ; 1 key lock for drawer in all models
Drawer has anti-fishing technology; cash once deposited can't be pilfered
Electronic, Combination, Biometric locks can also be provided.
Technical Specifications

Model No

External Dimensions mm

Internal Dimensions mm

Volume (ltrs)

Weight (kgs)

Locking Bolts

HxWxD

OD door at 90o

OW door at 180o

(HxWxD)

1212-11

640x435x485

870

780

305x305x280

26

225

2+2

1616-16

740x536x611

1097

982

406x406x406

67

360

2+2

3016-12

1097x536x510

996

982

762x406x305

94

450

3+3

3620-16

1250x638x611

1199

1186

915x508x406

188

630

4+4
All weights and sizes are approximate. Tolerances - Weight +- 10%, Dimensions +-5%