FR Safes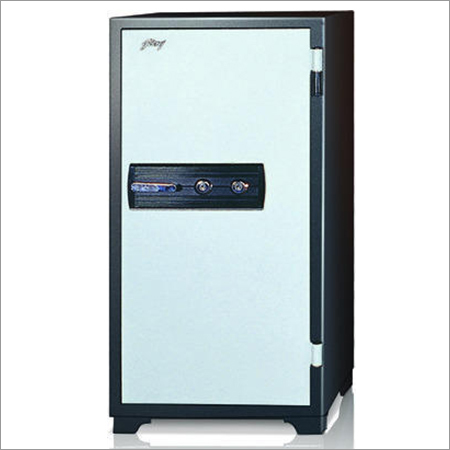 FR Safes
We are engaged in manufacturing and supplying excellent quality
FR Safes
for our valued end customers. These products are designed for protecting the all documents from fire. In order to avert scratches, our offered products have a powder coated exterior finish. Also, these safes are featured with external relocker for extra punch protection. Also, our provided products contain chrome electronic lock and brushed chrome drop-down handle. In addition to this, our offered
FR Safes
are widely demanded in the market due to their modern design and excellent function.
Features:
Integrated Z-bar built into the door increases pry resistance
Internal hard plate protects lock from drilling
High security
Fire Resistant Safes are designed to protect your documents from fire outbreak

Features:

FR 445 to FR 720 are listed at UL, USA as per UL 72 for 1 Hour and SP, Sweden as per NT Fire 017 for 120P
FR 1060, 1260, 1360 are currently available with listing from SP Sweden as per NT Fire 017 standards for 90P
Wide assortment of international sizes to meet diverse requirements of homes to offices.
These safes are developed to integrate with a number of locks to meet various needs
The powder coated exterior finishing helps to avert scratches.
Protects paper documents from fire
Mechanical
Combination (All looking options available)
Electronic
Biometric
Powder Coated & Scratch Resistant
Technical Details:
| | | | | | | |
| --- | --- | --- | --- | --- | --- | --- |
| Models | FR Safe 445 | FR Safe 560 | FR Safe 720 | FR Safe 1060 | FR Safe 1260 | FR Safe 1360 |
| Height (mm) | 649 | 764 | 924 | 1264 | 1464 | 1564 |
| Width (mm) | 505 | 590 | 590 | 590 | 670 | 690 |
| Depth (mm) | 540 | 590 | 590 | 590 | 590 | 590 |
| Interior Dimensions | | | | | | |
| Height (mm) | 445 | 560 | 840 | 1045 | 1350 | 1845 |
| Width (mm) | 365 | 450 | 450 | 450 | 530 | 550 |
| Depth (mm) | 305 | 355 | 355 | 355 | 355 | 355 |
| Volume(litres) | 50 | 90 | 115 | 170 | 237 | 265 |
| Weight in kgs (with out packing) | 118 | 186 | 218 | 290 | 350 | 395 |
Technical Specification

Model No.
External Dimensions H x Wx D
(in mm / inches)
Internal Dimensions H x Wx D
(in mm / inches)
Weight (in kg / lbs)
Volume (Ltrs. / Cu ft.)
FR Safe 20 (Horizontal)
385 x 437 x 431 156 x 175 x 16{
260 x 320 x 242 104 x 12n x 92
57 125.66
20 0.70
FR Safe 20 (Vertical)
445 x 377 x 431 172 x 14q x 16{
320 x 260 x 242 12n x 104 x 92
57 125.66
20 0.70
FR Safe 30 (Horizontal)
385 x 507 x 491 156 x 20 x 19r
260 x 390 x 302 104 x 15a x 11{
70 154.32
30 1.059
FR Safe 30 (Vertical)
515 x 377 x 491 20r x 14q x 19r
390 x 260 x 302 15a x 104 x 11{
70 154.32
30 1.059
FR Safe 40 (Vertical)
560 x 422 x 491 22 x 16b x 19r
435 x 305 x 302 178 x 12 x 11{
82 180.78
40 1.412
FR Safe 445
649 x 505 x 540 25n x 19{ x 214
445 x 365 x 305 172 x 14a x 12
118 260.15
50 1.76
FR Safe 560
764 x 590 x 590 309 x 23w x 23w
560 x 450 x 355 22 x 17u x 14
186 410
90 3.178
FR Safe 720
924 x 590 x 590 36a x 23w x 23w
720 x 450 x 355 283 x 17u x 14
218 480.61
115 4.061
FR Safe 1060
1264 x 590 x 590 49z x 23w x 23w
1060 x 450 x 355 41p x 17u x 14
290 639.34
170 6.003
FR Safe 1260
1464 x 670 x 590 57b x 26a x 23w
1260 x 530 x 355 49n x 20c x 14
350 770
237 8.37
FR Safe 1360
1564 x 690 x 590 61t x 276 x 23w
1360 x 550 x 355 53y x 21l x 14
395 869
265 9.35
All weights and sizes are approximate. Tolerances - Weight +-10%, Dimensions +-5% *Outside depth is without handle projection.

Important Information:

FR 445 to FR 720 are listed at UL, USA as per UL 72 for 1 Hour and SP, Sweden as per NT Fire 017 for 120P
FR 1060, 1260, 1360 are currently available with listing from SP Sweden as per NT fire 017 standards for 90P