Fire Proof Safes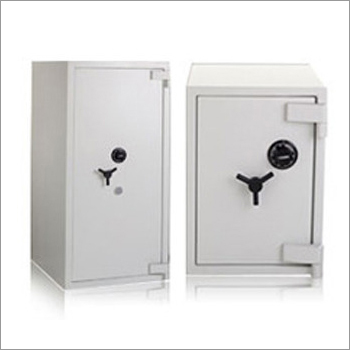 Fire Proof Safes
The traditional design of safety item that features with a heavy duty structure is changing to meet various safety requirements. The exclusive range of Fire and Burglary Resistant VdS of Godrej is approved for its standard quality and is enlisted under Defender Pro safes with light weight nature.
The Defender Pro collection of safes consist of standard grade locks that ensure high level of security with trouble free operation to meet various safety requirements of modern days.
Further Details:
Robust range : Its range of size depends on its various storage capacities in order to meet various storage requirements.
The strong Seamless Construction :Its entire structure is welded and is featured with a number of corners with superior finishing. The five sides and its door are equipped with a specially developed Godrej TDR Matrix located between inner and outer steel structures. This construction enables it to avert damages caused by electric- arc, Grinders, Oxy- Acetylene torch, power drills, sledgehammers and thermic lance. Its construction is also useful to endure high impact caused by a fall from elevated level.
Light Weight & Smart Looks : Its grade I/II/III is featured with 65mm thick body. In case of its Grade V model, the thickness range is 90 mm. These are lightest when compared to other items of the same categories. The smooth walls provide these the stylish yet traditional look.
Bolt-work Mechanism : The offered safes are available with different types of fixed and retraceable bolts depending on their grades and sizes. The body jambs are installed to ensure additional protection of these bolts against tool and torch attack.
Automatic relocking devices : The locks are attached to a wide range of live relockers and 7 glass plate relockers to prevent burglary or all sorts of forced entry into the safe. The quick responding safety mechanism is truly useful for checking all sorts of attacks does by liquid explosives or by using instruments and torches like powerful Diamond Core Drill or thermic lance or oxyacetylene torch.

Fire Resistance :In order to offer improved security arrangement against all sorts of robbery attacks, the product range of Defender Pro is available with fire proof design. The offered products under this category have successfully cleared fire Endurance test conducted by SP laboratories, Sweden as per Nt-017 standards for protection of documents for up to 60 minutes.
Choice of locking arrangements
Grades I/II./III is available with factory fitted VDS certified single mechanical key/ electronic lock/combination. The in built provision is designed for second lock and alarm sensors (optional).
Grade V safes are available with factory fitted dual VDS certified combination key/ mechanical key/electronic lock. Their in built provision is used for second lock and alarm sensors (optional).
Choice of accessories :
Shelves with adjusting facility
Pull-out trays with sliding characteristics
Drawers for placing small shaped precious items
File holders
Hinged flap doors or deposit lockers with locking arrangement for partitioning storage space for various usage purpose.
Technical Details:
Grade -1
External HxWxD (mm)
Internal HxWxD (mm)
Volume in Ltrs
Weight in kgs
Adjustable Shelves
Model A 14
445 x 455 x 465
355 x 355 x 275
35
115
1
Model A 19
585 x 405 x 465
485 x 305 x 275
40
130
1
Model A 23
685 x 520 x 615
585 x 420 x 425
104
204
2
Model A 28
800 x 550 x 640
700 x 450 x 450
141.7
239
2
Model A 35
1000 x 610 x 715
900 x 510 x 525
241
325
3
Model A 43
1200 x 610 x 715
1100 x 510 x 525
295
372
3
Model A 51
1400 x 610 x 715
1300 x 510 x 525
348
403
3
Model A 59
1600 x 610 x 520
1500 x 510 x 330
252
394
3












Grade -2
External HxWxD (mm)
Internal HxWxD (mm)
Volume in Ltrs
Weight in kgs
Adjustable Shelves
Model D14
485 x 485 x 498
355 x 355 x 275
35
173
1
Model D19
615 x 435 x 498
485 x 305 x 275
40.7
185
1
Model D23
715 x 550 x 648
585 x 420 x 425
104
285
2
Model D28
830 x 580 x 673
700 x 450 x 450
141.7
337
2
Model D35
1030 x 640 x 748
900 x 510 x 525
241
453
3
Model D43
1230 x 640 x 748
1100 x 510 x 525
295
530
3
Model D 51
1430 x 640 x 748
1300 x 510 x 525
348
600
3
Model D63
1730 x 800 x 693
1600 x 670 x 470
504
768
3












Grade -3
External HxWxD (mm)
Internal HxWxD (mm)
Volume in Ltrs
Weight in kgs
Adjustable Shelves
Model T 14
485 x 485 x 498
355 x 355 x 275
35
178
1
Model T 19
615 x 435 x 498
485 x 305 x 275
40.7
190
1
Model T 23
715 x 550 x 648
585 x 420 x 425
104
290
2
Model T 28
830 x 580 x 673
700 x 450 x 450
141.7
345
2
Model T 35
1030 x 640 x 748
900 x 510 x 525
241
470
3
Model T 43
1230 x 640 x 748
1100 x 510 x 525
295
560
3
Model T 51
1430 x 640 x 748
1300 x 510 x 525
348
640
3
Model T63
1730 x 800 x 693
1600 x 670 x 470
504
825
3
All weights and sizes are approximate. Tolerances - Weight ± 10%, Dimensions ± 5% (Also available in Grade 4, 5 & 6)